Leo company's product prototype.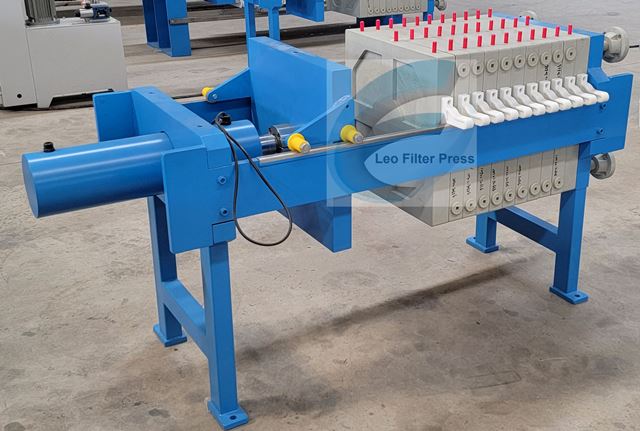 Small filter press will be in small filter press chamber scale and small filter press external size,can be put in a small area for filtering operation,due to its small size,no need automatic hydraulic pressing system,normally a manual hydraulic pump(J press pump)will be enough for all the filter plates and filter cloth pressing.Leo Filter Press offer a wide range of small filter press models and have the following features:
1.Leo Filter Press small filter press are in small chamber scale design,chamber capacity from 10L to 200L or upto OEM chamber design request.
2.Leo Filter small filter press have several types of filter press plates:chamber recessed filter plate/membrane filter plate(rubber membrane filter plate available for small size membrane filter plates,different rubber membrane material,such as EPDM rubber membrane,nature rubber membrane,teflon rubber membrane.
3.Leo Filter small filter press offer several method for filter press pressing:automatic hydraulic pressing/manual hydraulic pressing,Semi-automatic hydraulic pressing
4.Leo Filter small filter press will have several types of filter press pumps for operation:screw pump,diaphragm pump,membrane pump and small piston pump
5.Leo Filter small filter press offer small size filter press operation assistant units,such as mall manual drip tray,small size tank etc.