Leo company's product prototype.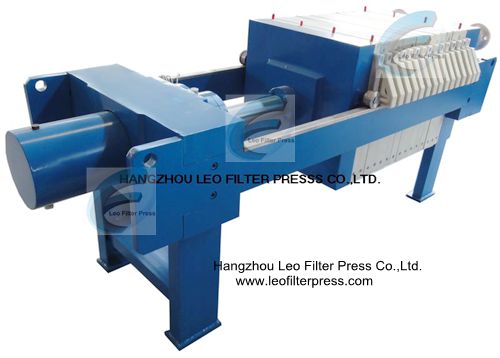 Filter Press Operation and Maintenance Instructions from Leo Filter Press,Filter Press Manufacturer from China
Some Useful Filter Press Maintenance and Operation Tips,also the Problem Shooting Methods
If during filtering, the discharged filtrate not clean, the main problem: filter press cloth damaged, over flapped at some parts, or not soundly installation on the filter press plates, not correctly fastened, filter plate broken, filter press plate surface has lots of un-cleaned filter cakes,please check the filter press cloth on the filter plate one by one carefly, and clean the filter press cloth frequently to make sure the filter cloth's working ability.
slurry badly spraying:the reason why slurry spraying is due to fast slurry feeding and feeding up-going, if increase feeding and spraying slowly and have a overflow valve on the feeding port, then this phenomenon can be terminated.
End plate moved in a great deviation, filter cloth bottom still have filter cake remains, method to this problem is to remove all the remains and clean filter cloth and filter plate to remove filter cakes completely after every filtration
Filter plate shifting system attacks filter plate handles frequently during filter plate shifting, but the filter plate shifter can't return back to its original place, this caused by the weak strength from the filter plate shifter,please increase the driving force.