Leo company's product prototype.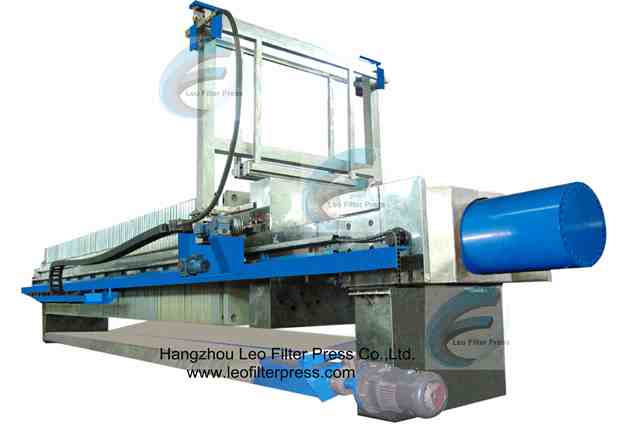 Leo Filter Press Operation and Design Instructions for Different Types of Filter Press
Filter Press Design and Working Information from Leo Filter Press, Filter Press Manufacturer from China
What is a filter press ?
Filter press consisted of many filter plate, carry out solid-liquid separation by positive pressure, filter press will work continuously after filter cake cleaning, can be divided into chamber filter press,membrane filter press,plate and frame filter press mainly. Filter Press can be used in many industries, filter press design structure is compact , easy to be operated and maintenance for different industries. In nowadays,filtr press can fulfils automatic cake dumping and filter cloth cleaning, filter press become bigger and bigger due to full automatic technology are used.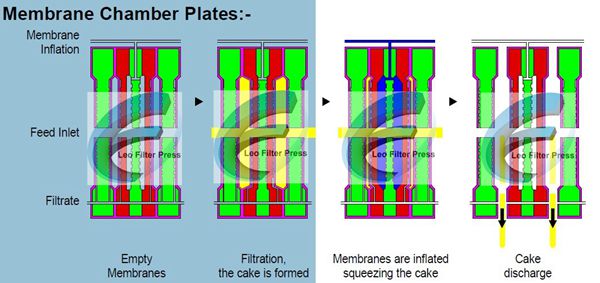 What is filter press used for ?
Filter press can be used for solid-liquid separation,but not every suspension can used filter press to do filtration. Some materials need centrifuge ,some materials need belt filter press,some other ones need cartridge filter etc. But filter press is the most popular equipment for filtration, it have few requirements for feeding, filtering pressure ranges from 0.6 to 2.5Mpa,temperature from -40 centi degree to 120 centi degree ,that is why it can be widely used in various industries
What is the difference between plate and frame filter press and chamber filter press
Plate and frame filter press's chamber consists from two plate and one filter frame,filter cloth will be fasted between filter plate and filter frame, that is why this kind of filter press can be replace filter cloth easily and this filter press model is the oldest and traditional.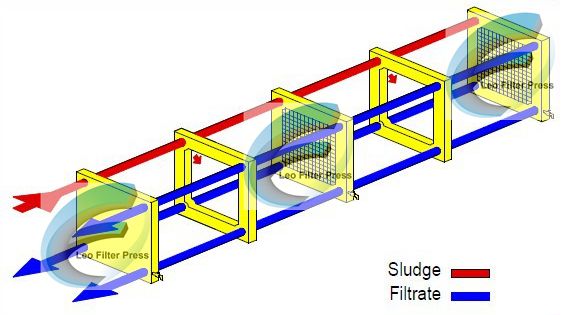 Chamber filter press forms one chamber by two chamber filter plates which next to each other,filter cloth will be fasted on every chamber filter plate, chamber filter press has many advantages: high filtering efficiency ,perfect filtering result, longer service life time.Normally the chamber filter press(also recessed plate filter press) and membrane filter press are the two main popular model for operation
What is filter press cloths?
The filter press cloth is the main filtering media for a filter press,it will cover on the both size of the filter press plates to stop solids during filtration.There are two types of filter press cloth: non gasketed filter cloth(standard filter press cloth) and gasketed type filter press cloth which will be used for gasketed filter press plates(CGR filter press plate)
What are those filter cloth raw material?
Filter cloth are normally made from vinylon,nylon,PP sometimes will be non-woven cloth or use more than two kinds of filter cloth at the same time