Leo company's product prototype.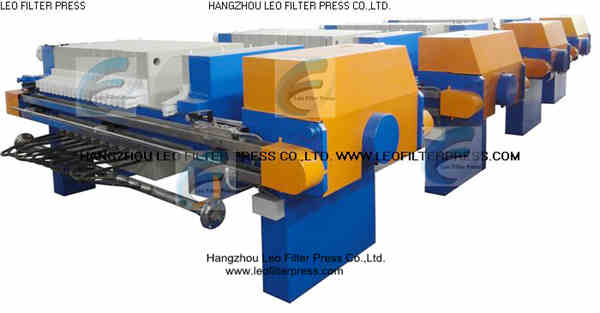 Leo Filter Press Membrane Filter Press Working and Operation Instructions:Membrane Squeezing Equipment
Filter Press Operation Instructions for Membrane Filter Press Filter Cake Squeezing Operation
Filtration Operation and squeezing operation difference is: the former one is have flowing ability,can be deivered by pumps,the follower havn't flowing ability,but after squeezing can have less moisture content filter cakes.Suqeezing operation and filtering operation have the same final target:solid-liquid separation.But many cases,we can see that the filter cakes need to be squeezed after filtering operation,so the squeezing operation can be the after treatment for filtering operation.Squeezing dewatering is more economic than drying by heating,so squeezing also can be the pretreatment for drying,burning and buring.Squeezing operation can fulfile energy saving and higher working efficiency,that is why squeezing filtering equipments can be used widely
squeezing filtering equipments can be devides to the following types,intermettent squeezing filters,such as membrane plate and frame filter press,membrane chamber filter press,membrane squeezing pipe filter,membrane squeezing cylinder filter,the continuous squeezing filters are normally to be belt filter presss,screw type squeezing filter,disc filter etc...
The most popular one is belt squeezing filter press,its main structure and charateristics,it have the following parts: dring system,tightening system,squeezing belt running deivation correction system,squeezing rollers,filter and squeezing belt washing system,filter cloth etc.
Leo Filter Press Brief Technical Information for Membrane Filter Press Operation
Membrane Filter Plate Size: 400mm to 2000mm
Max membrane filter plate squeezing pressure:20bar
Membrane squeezing model membrane material: PP or rubber material
Membrane filter press closing method: normally close by filter press hydraulic system
Membrane filter press chamber capacity:10L to 10000L
Filter Press pump : diaphragm pump(membrane pump),screw pump, slurry pump,piston pump etc.