Leo company's product prototype.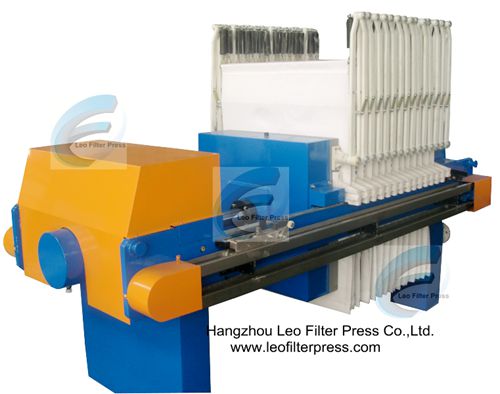 Automatic Filter Press for Different Industry Operation,Leo Filter Press,the Filter Press Manufacturer from China
Automatic Filter Press for Various Filter Press Types(Membrane Filter Press,Plate and Frame Filter Press and Hydraulic Filter Press )
Automatic filter press is special designed filter press used for high automatic operation requirement conditions industries for example, for some wastewater dewatering projects,Being a professional automatic filter press manufacturer, Leo Filter Press designed and exported special designed filter presses for different industries. The automatic filter press(the full automatic operation filter press) always design in high degree automatic filter press operation all the filter press system will be controlled automatically with high degree PLC automatic controlling system.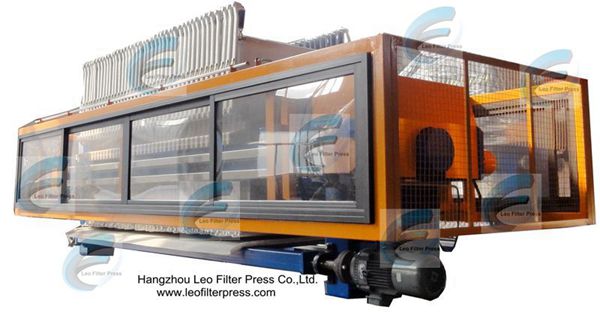 Automatic filter press have many types,such as membrane filter press,hydraulic filter press(full automatic hydraulic opening filter press),chamber recessed plate filter press
Automatic filter press automatic system on the filter press: automatic filter cloth shaking system,automatic filter cloth vibrating system,automatic filter plate vibrating system,automatic filter cloth cleaning system,automatic drip tray collecting system etc. All the system will be controlled by filter press PLC system and work together with operation site's other automatic operation systems.
Automatic filter press plate size: 800mm to 2000mm
Designed filter press chamber volume: 100L to 20000L
Filter press cloth: special industrial filter press cloth,different filtering mesh
Filter press pump: membrane pump(diaphragm pump),screw pump, slurry pump or other pumps
Automatic driving: pneumatic or electrical driving
Automatic Filter press frame type: side bar type or overhead beam type filter press