Leo company's product prototype.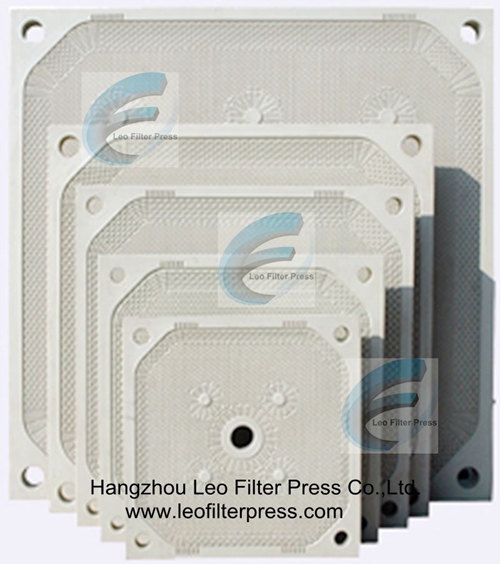 Membrane Filter Plate for Different Size Membrane Filter Press Operation from Leo Filter Press,Filter Press Manufacturer from China
Membrane Filter Plate and Recessed Chamber Plate Mixed Membrane Filter Press from Leo Filter Press
Membrane filter plate is for membrane squeezing to get down filter cake moisture content and normally with membrane filter plate,the filter press will get higher working efficiency,that is also the membrane filter press working target,how to get less moisture content filter cake and shorten filter press cycle time sometimes is very important for the project.
Some sludge dewatering,when with the membrane squeezing,the filter cake can be dried further and easy to be treated after filtration, sludge treatment average cost will be decreased.
Brief Instructions of Leo Filter Press Membrane Filter Plate
Filter Plate Size:400mm to 2000mm
Membrane Sheet Material: Rubber or PP(Polypropylene)
Filter Pressure: 6bar to 20bar
Filter Temperature: -5 to 100 centi degree
Filter Plate Thickness: 50mm to 80mm(standard model)
Chamber Depth:20mm to 40mm(standard model)
Output Capacity per Year: more than 2000pcs
Filtrate Outlet Model: open discharge or closed discharge
Filter Cake Washing:yes/no
Plate Shifting: manual or automatic movement
Packing: exporting standard seaworthy packing
Filter Press Cloth Size and Material: according to chamber filter plate size, PP or PE material
Membrane Installation Type: welding type(one piece), or inserted type
Membrane Squeezing Media: air or water
Membrane Squeezing Degree: 6bar to 20bar
Certificate: CE,ISO