Leo company's product prototype.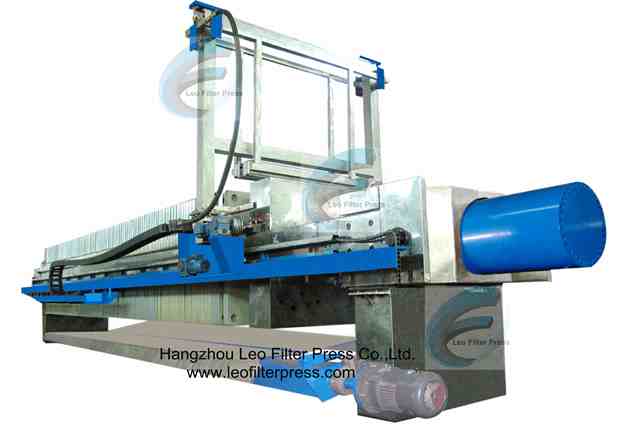 Leo Filter Press Automatic Filter Presses

for Different Industries,Full Automatic and Various Size Design



Automatic Filter Press Operation and

Working from Leo Filter Press, Professional Filter Press Manufacturer



Leo Filter Press is a professional filter

press manufacturer from China,offers different size of automatic filter

presses, even for small size filter press or some special industries need high

automatic controlling system, for example the oil filter press. The automatic

filter press operation will be under PLC program controlling and all the steps

will be automatically operated.



Why Leo Filter Press Automatic Filter

Press?



Leo Filter Press team does carefully filter

press case study for processing, only manufacture Special designed automatic

filter press system for different industries



Economic automatic filter press price for

the whole automatic filter press system



Leo Filter Press team also consider

automatic filter press user's special requirements.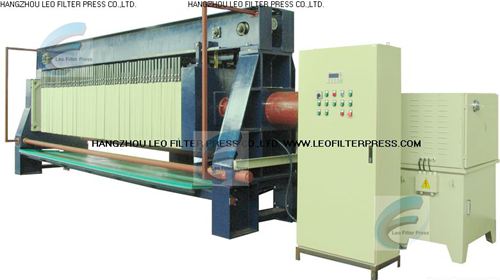 The following specification list is for Leo

Filter Press 800 Automatic Filter Press,if need further information for

automatic filter press operation and working animation or other size automatic filter press specification,please contact Leo

Filter Press Sales Department anytime.



XZ800 Leo Automatic Plate Shifting Filter Press Basic Design and Operation Data



Filter Press Model:XZ800 Leo Automatic Plate Shifting Filter Press



Filter plate size:800mmX800mm



Filter Plate thickness:up to Leo Filter Press Design data



Filter Plate Quantity:up to Leo Filter Press Design Data



Filter cake thickness:30mm(standard model)



Filtering temperature endurable:50-90 centi degree(standard designd models)



Filtering pressure available:0.6-1.0Mpa (standard designd models)



Filter Press operation:automatic hydraulic closing



Filter cake discharging :automatic filter plate shifting



Design and Operation Characteristics for Leo XZ800 Automatic Plate Shifting Models:
1. Adopt patent mould pressing filter plate producing technology, high intensity, high temperature endurable, light weight, anti-corrosion, alkali and acid resistance, nontoxic and odorless
2. High strength and special mould design for PP filter plates, less moisture content and easy to be washed and maintenance.




3. The filter press frame is made from solid steel, which can support the total weight of filter press plates and the pressure caused during filtering
4. Reasonable structure design, less economic cost but perfect filtering performance during filtration
5. Automatic plate shifting design,less labor cost and working intensity,higher working efficiency.Special plate shifting design system,less economic cost with perfect stable plate shifting performance
6. Release and close all the filter plates by a hydraulic system,automatic pressure sustaining design
7. Easy, safe and labor saving of filter press operation, all the continuous action can be accomplished by pressing the buttons on the controlling panel of the filter press.
8. Special designed safety operation devices which will guarantee filter press operators' safe operation.
9. Various special design factors can be added : filter cake chute,filter cake cart, platform, catwalk, PLC control for DCS communication, for automatic functions ,XZ800 can be designed to have automatic filter cloth washing function, filter cloth shaking function, filter cloth vibrating function, if you have such special requirements please tell Leo's sales engineers
Leo XZ800 Automatic Plate Shifting Filter Press Basic Design Specification List