Leo company's product prototype.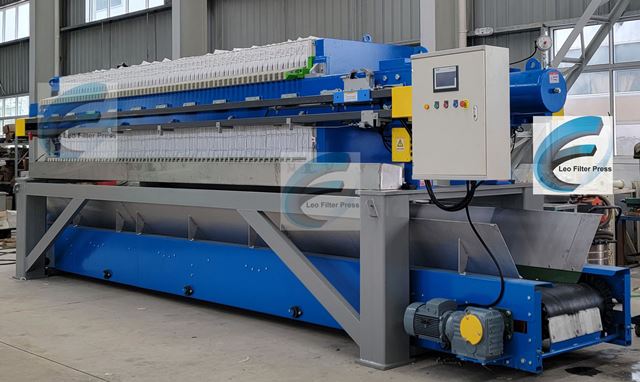 Automatic Filter Press becomes poplar for many industries,at present time,many factories have automatic controlling processing lines for manufacturing, the filter press is one of their automatic controlled system.Leo Filter Press offer various automatic designed filter press machines in different filter press model,such as automatic membrane filter press,automatic chamber filter press or fully automatic operation filter press systems.The Leo Filter Press automatic filter press has the following design and operation features:
1.Leo Filter Press offers various chamber capacity automatic filter presses,even for small scale mini capacity filter press,if Leo Filter Press have such request,the filter press still will be in automatic operation
2.Leo Filter Press Offer automatic filter press system design service from filter press hydraulic pressing,membrane filter plate automatic squeezing and also for automatic filter press plate and filter press cloth cleaning and washing,every steps of filter press operation will be in automatic controlling design.
3.Leo Filter Automatic filter press plate type:membrane filter plate or recessed chamber filter plate or plate and frame filter press plate and filter frame
4.Leo Filter Press offers all the filter press pumps for automatic filter press system operation and all the pumps will be under automatic control and will work automatically with the other equipment in the filter press system.
5.Special automatic filter press and other equipment automatic operation design service, fulfil whole system automatic operation.