Leo company's product prototype.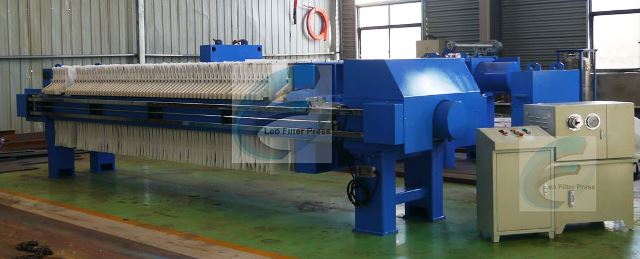 Hydraulic filter press is named by filter press pressing way:the pressure to close all the filter press system is produced from hydraulic system,the filter press hydraulic system can be automatic hydraulic by hydraulic pack system or manual hydraulic from a manual hydraulic system.Normally small size filter press will use manual hydraulic pressing system,the middle and big size filter press will use automatic hydraulic pressing design.
1.Leo Filter Press Hydraulic Filter Press all the filter press frames will designed to be high hydraulic pressing endurable operation
2.Leo Filter Press Hydraulic filter press plate size: From 400mmX400mm, 630mmX630mm, 800mmX800mm, 1000mmX1000mm, 1500mmX1500mm, 1500mmX2000mm 2000mmX2000mm
3.High quality polypropylene PP filter press plates for Leo Filter Press hydraulic filter press filtering operation.
4.Leo Filter Press offers special hydraulic driving system,such as filter press plate hydraulic filter plate shifting system,hydraulic driving filter press cake hopping system,hydraulic automatic drip tray system.
5.Leo Filter Press offers long service time,less maintenance and repairing rate filter press hydraulic system.
6.High automatic control for Leo Filter Press hydraulic filter press system.