Leo company's product prototype.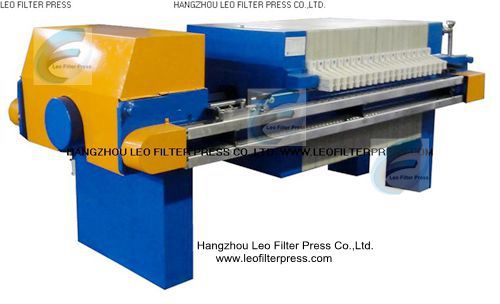 Various Capacity Hydraulic Filter Press from Leo Filter Press, Hydraulic Filter Press Manufacturer from China
Manual Filter Press/Automatic Hydraulic Filter Press,Different Filter Press Models with Different Hydraulic Systems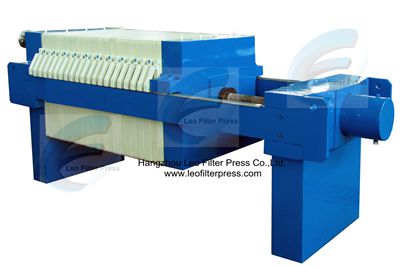 Main Characteristics of Hydraulic filter press from Leo Filter Press
1. Leo Filter Press hydraulic filter press adopts high quality steel welding, long service time, high temperature and pressure endurable
2. First class PP material for filter press plates,long filtering and operation time
3. Different filter press feeding pumps available: screw pump, diaphragm pump(membrane pump),centrifugal pump,slurry pump etc.
4. Automatic filter press controlling system for whole filter press system operation controlling
5. Safety operation design,high class security operation
6. Less maintenance and less repairing requirements during filter press operation.
7. Filter press plate size: 400mmX400mm,500mmX500mm,630mmX630mm,800mmX800mm,1000mmX1000mm,1200mmX1200mm,1250mmX1250mm,1500mmX1500mm,1600mmX1600mm,2000mmX2000mm

8. Filtering pressure: 6bar to 20bar
9. Filter area: 1m2-1600m2
10. filter press cloth: various material of filter press cloths
Leo Filter Press Useful Tips for Filter Press Hydraulic System-hydraulic units disassemble and installation requirements before installation
make sure all the tools are ready for working before installation and assemble,pls check all the spare parts and hydraulic units for the hydraulic station, to make sure all the hydraulic units model, function are the same on the drawing. Make sure the inner and outer of the hydraulic oil tank, connecting surface and all the installed hydraulic units are clean After all the hydraulic units are installed, make sure the top installation quality When disassemble the hydraulic units ,pls make sure the hydraulic oi controlling system are in a safe and stable working stable ,then cut the pressure oil source Before disassemble the hydraulic units,pls disassemble the electrical controlling system first After disassemble all the hydraulic units ,pls install it back to its original place as soon as possible, or pls seal the oil port and sealing surface to make sure there is no impurities go to the inner side of hydraulic station and hydraulic units.