Leo company's product prototype.
Leo Filter Press Automatic Hydraulic Filter Press,Open Filter Press by an Automatic Hydraulic System
Automatic Filter Press with Automatic Hydraulic Opening Filter Press Hydraulic System from Leo Filter Press
Hydraulic filter press is the filter press will be closed by a hydraulic system before feeding and filtering, there are manual hydraulic filter press and automatic hydraulic filter press which is popular for small and big size filter presses. If the filter press model have a few quantity filter press plates, all the filter press plates will be opened by the automatic hydraulic system directly. All the filter press operation
1. Automatic hydraulic system for filter press closing and opening
2. PLC control system for the whole processing steps
3. Filter press model: recessed plate filter press(chamber filter press),membrane filter press or full membrane filter press
4. Automatic hydraulic opening for fast filter cake dumping
6. Other related special designed functions ,such as filter cloth washing, bomb door system etc.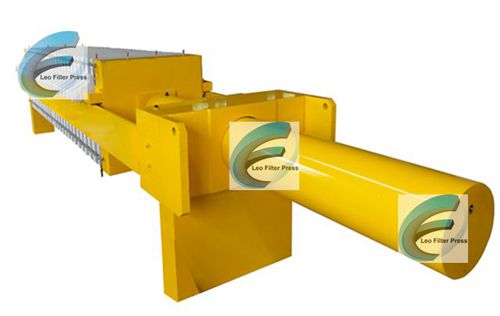 7. Filter press feeding pump: centrifugal pump, slurry pump, diaphragm pump(membrane pump) etc.
8. Filter press cloth: nylon,Polypropylene,PE filter press cloths
9. Filter Press plate size:400mm X400mm ,500mmX500mm,630mmX630mm small size filter press plate,bigger size plates:800mmX800mm,1000mmX1000mm,1200mmX1200mm,1250mmX1250mm,1500mmX1500mm,1600mmX1600mm
10. filter area: 10m2-1000m2
11. Chamber volume capacity: 10L to 10000L