Leo company's product prototype.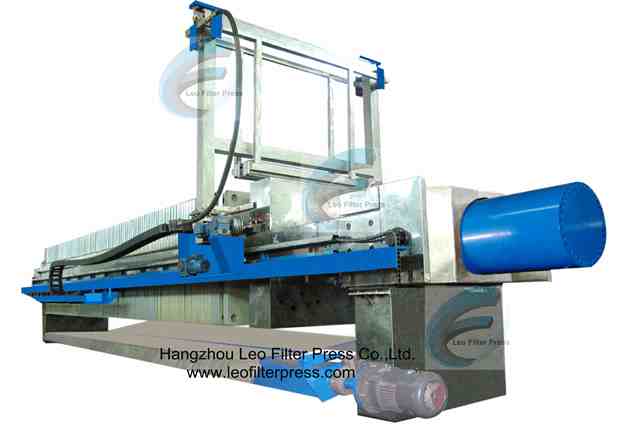 Membrane Filter Press Working and Operation Instructions from Leo Filter Press,Filter Press Manufacturer from China
Leo Filter Press Design and Basic Information Instructions for Various Membrane Filter Press Models
There are some slurry need to use membrane filter press for operation, membrane filter press works in less filter press operator intensity, less energy cost by membrane squeezing at the last period of filtering High filter cake solid content,less moisture content, membrane squeezing will carry out after filtering,re-construct filter cake, higher filter cake density, less moisture content after squeezing, the membrane sheet is anticorrosive,can be used for different industrial requirements ,the whole membrane filter press will be controlled by PLC full automatic controlling system.
If there are some material have strict filter cake moisture content requirement,the membrane filter press will be the best choice.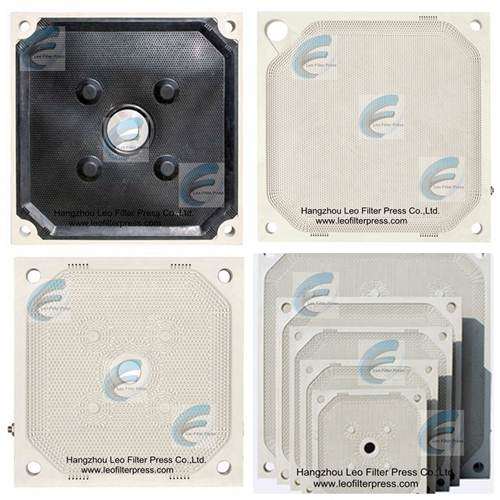 The main difference between membrane filter press and chamber filter press is the membrane filter plate which during operation, after material feeding, inlet high pressure good flowing ability liquid into membranes to inflate and to squeeze filter cakes, by which filter press user can fulfill further dewatering ,also called membrane squeezing dewatering.
After all the filter plates being pressed together tightly by hydraulic system, suspension will be pushed to chambers continuously, and by continuously feeding and filtering, the final filtration stage, membrane sheets will be inflated to press filter cake fatherly and by this we can get drier filter cakes.
Membrane Filter Press Working Principle: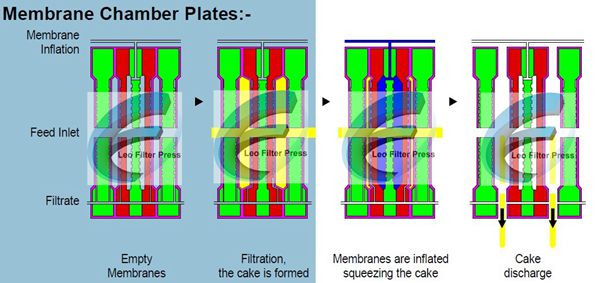 Leo Filter Press Membrane Filter Press Operation Characteristics:
1.Automatic controlling system for filter press and other related equipments controlling
2. Solid steel material for filter press frame,longer service time and high pressure endurable
3. Safety protecting system for membrane filter press operators
4. Special filter cloth for different material filtration
5. Other related assistant functions available such as bomb door drip tray system,automatic filter cloth washing system etc.
6. Leo Filter Press membrane filter plate size: 400mm to 2000mm
7. Max membrane filter plate squeezing pressure: 6-20bar
8. Membrane filter press chamber capacity: 10L to 20000L
9. Membrane sheet material: polypropylene