Leo company's product prototype.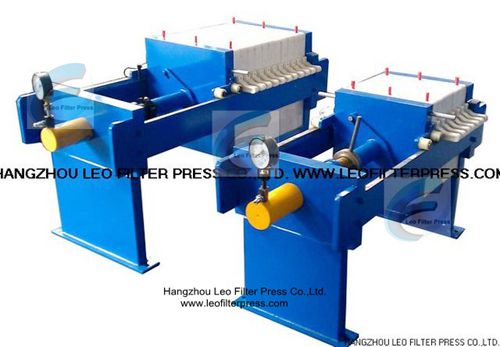 Leo Filter Press 500 Series Manual Filter Press Operation Instruction
Manual
Operation Filter Press Operate with a Manual Hydraulic Syatem
Main Filter Press Design and Operation Insutructions for Leo Filter Press 500 Manual Hydraulic Filter Press:
The Leo 500 Manual Hydrualic Filter Press is welcomed by many filter press users who only have a few capacityslurry and no need to have a big capacity filter press.Other users want to have a small capacity testing filter press, 500 manual filter press is the wise choice, less cost and small filtering capacity can let them
to record all the useful specifications during testing.
Leo Filter Press 500 Series Chamber Filter Press Design and Operation Characteristics:
1. Adopt patent filter plate producing technology, high filtering pressure design.
2. High strength design for PP filter plates, less moisture content and easy to be washed and maintenance.
3. Strong filter press frame design for different filtering projects.
4. Leo patent manual hydraulic system for the manual closing operation
5. Various special design offered by Leo filter Press: filter cake cart, drip tray, filtrate gutter etc,please show your special requirements to Leo Filter Press sales engineers directly.