Leo company's product prototype.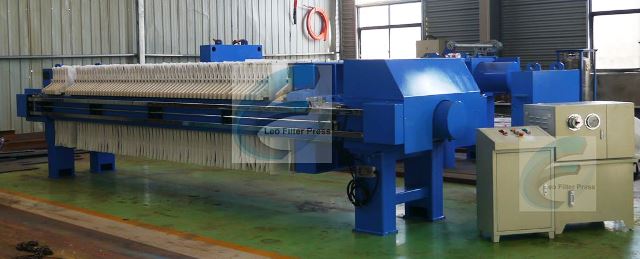 Leo Filter Press is filter press manufacturer and supplier offer various designed filter presses,such as recessed chamber filter press,membrane filter press,plate and frame filter press.Among these filter press models,there is chamber filter press(also recessed plate filter press or plate filter press)which is similar filter press model as plate and frame filter press but chamber filter press can work in full automatic filter press operation,higher filtering pressure and filter temperature.
Leo Filter Press offers various chamber capacity design chamber filter presses, here are the short instructions for Leo Filter Press chamber filter presses.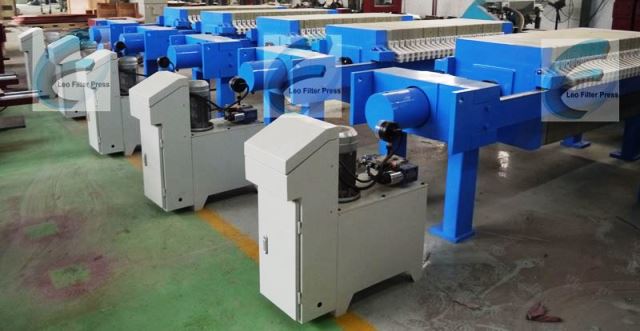 1.Filter press style: chamber filter press
2.Filter press plate thickness: chamber plate thickness from 50mm to 90mm or up to OEM order request
3.Filter plate chamber depth: 20-40mm,or according to OEM order
4.Filter press chamber capacity: 1L to 20000L or according to OEM order
5.Chamber filter plate size: 400mmX400mm,630mmX630mm,800mmX800mm,1000mmX1000mm,1200mmX1200mm,1250mmX1250mm,1450mmX1450mm,1500mmX1500mm,1500mmX2000mm,2000mmX2000mm
6.Filter Pressure: 0-25bar
7.Filter temperature: 0-120centi degree
8.Filter press operation: manual operation/automatic operation/fully automatic operation
9.Filter press pump: membrane pump,diaphragm pump,screw pump,piston pump
10.Filter press cloth: various filtering micron mesh size ,various filter press fabric material and various filter press cloth specification
11.Filter press hydraulic cylinder type: manual hydraulic operation design model hydraulic cylinder/automatic hydraulic operation hydraulic cylinder
12.Filter press hydraulic system: manual hydraulic hydraulic system/automatic hydraulic system
13.Filter press plate and filter cloth washing: manual washing/automatic washing
14.Filter cake washing: yes
15.Filter press packing: exporting standard packing
16.Hydraulic system oil pump motor: 1.5- 18.5kw
Leo Filter Press always offer special filter press design for Leo filter press users.