Leo company's product prototype.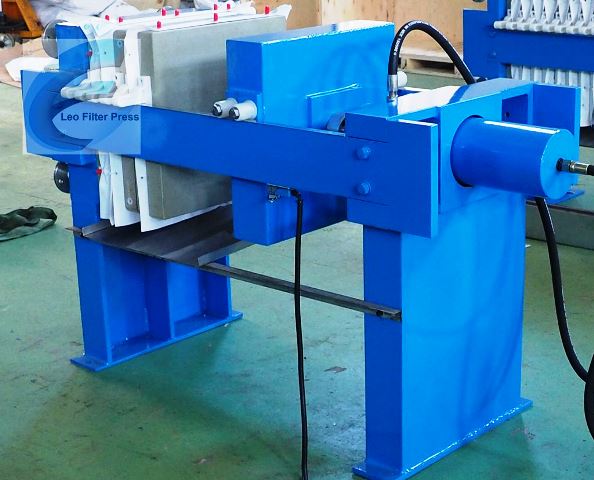 Leo Filter Press is professional filter press manufacturer and exporter offer various designed filter press and filter press parts for filter press operation and maintenance,among the filter press models,there is manual hydraulic filter press,Leo Filter Press offers special manual hydraulic operation filter presses and manual hydraulic system for filter press operation replacement.Leo Filter Manual hydraulic filter press have the following design and operation specification list:
Filter press model: Leo X-hydraulic filter press
Filter Press capacity: 1L to 200L or up to OEM chamber design request
Filter Press plate size: 400mmX400mm,630mmX630mm,800mmX800mm,only for small size filter press plates models
Filter press plate type: plate and frame type filter plate and filter frame/recessed chamber filter plate/chamber membrane filter plate
Filter Press closing hydraulic unit: manual hydraulic system
Max filter pressure: 10-25bar
Max filter press cylinder pressure: 200-300bar
Filter Plate thickness: 50-80mm
Filter Plate outlet way: open/closed
Filter Plate washing: manual plate washing
Filter area: 1m2-60m2
Filter press cloth: various filtering mesh size and filter cloth material, different specification filter press cloth and accept OEM orders for filter press cloths
Filter Press pump: air diaphragm pump/screw pump/membrane pump/centrifugal pump/piston pump
Filter press packing: exporting standard seaworthy packing
Filter press min. order quantity: 1unit
Leo Filter Press offer standby manual hydraulic oil pump, filter press cloth and filter press plates etc. filter press parts for Leo Filter Manual hydraulic filter press operation replacement.