Leo company's product prototype.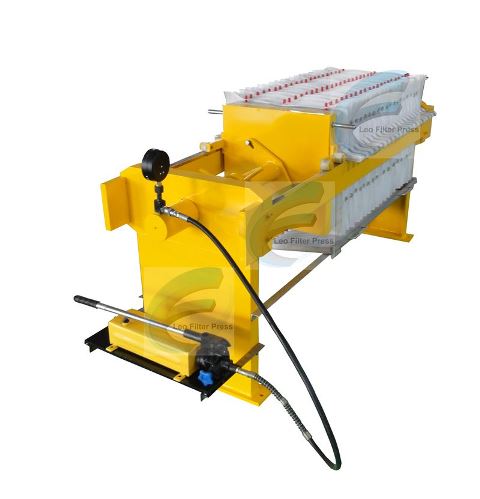 Besides big chamber capacity filter press,Leo Filter Press also offers a wide range of manual operation complete manual working filter presses,all the filter press plates will be pressed by a hi-jack manual hydraulic pump,after filtration,all the filter cakes will be dumped manually,normally manual filter press will be a small chamber capacity filterpress,can be fit for small capacity slurry filtration.Leo Filter Press offerssmall capacity and small flow rate filter press feed pumps,such as diaphragm pump,membrane pump,screw pump or small capacity centrifugal pump.For some manual filter press for laboratory test,Leo Filter Press offers different model of filter press cloth which will be various in filter cloth material, filter cloth filter mesh size and also filter cloth fabric specifications.
Leo Filter Press received many enquiries for manual filter press, all of filter press users will ask,can we order OEM capacity manual filter press? The answer for Leo Filter Press manual filter press is Yes, manual filter press capacity will be variable can be ordered according to manual filter press operation site capacity.