Leo company's product prototype.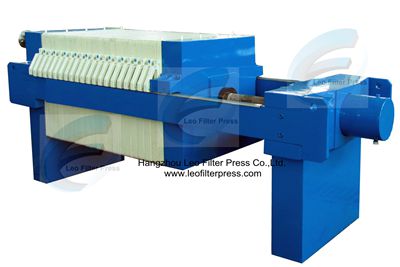 Plate and Frame Filter Press Construction and Working Theory from Leo Filter Press, Plate and Frame Filter Press Manufacturer from China
Leo Filter Press Simple instructions for Plate and Frame Filter Press Operation and Design
plate and frame filter press consists of closing system,filter press frame,filter plate,filter frame and other accesories.Filter plate and filter frame will be put alternatively on the side bars,on every filter plate and filter frame there are filtrate discharging channels,for suspension feeding and filtrate discharging.All the filter plate and filter frame have the same size sealing surface,filter cloth will be placed between filter plate and filter frame,also works as sealing gasket.
a filter frame and two filter plates will consists a filtering chamber,a plate and frame filter press have lots of chambers next to each other.The two sides of chamver has filter cloth to hold solid and to let filtrate pass through,all the filter cloth filtering area means the plate and frame filter press total filtering area
the filter press closing system produce the high closing force to connect all the filter frame,filter plate and filter cloth to a serious vaccumed chambers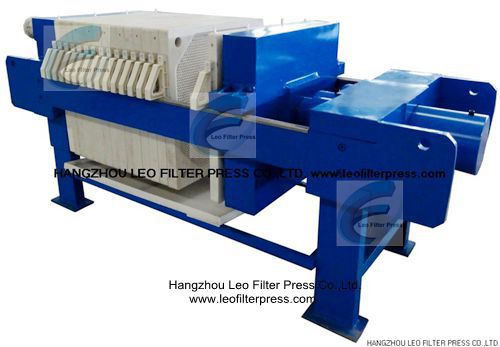 Plate and frame filter press is a polular pressure filter,it began to be used in chemical products producing at 18 century and still play a main role in chemial producing.the pushing force for filtering is the pressure difference between the two side of filtering media,that is we called working pressure.Plate and frame filter press working pressure is normally 0.5-1.0Mpa,sometimes can be designed to be much more higher.Its working flow rate:suspension being pushed into by feeding channel to every filter frame,suspension will passentrate filtering media by filtering pushing porce to filtering surface of filter plate,and flow together at the filtrate discharging gutter and discharged together finally.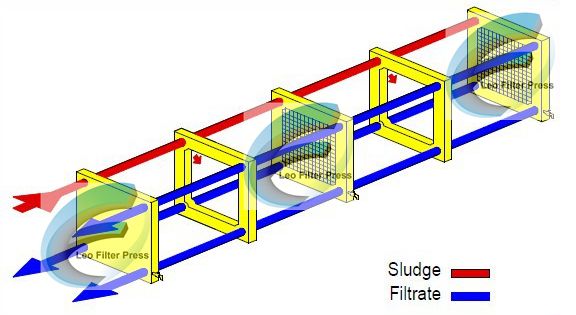 the normally filtering media is filter cloth,if there is special requirement,we can adopt other ones,for example,when carrying out further filtration for oil,we will use filter paper instead of filter cloth
at the biginning of filtration,the tinny solids will pass the filter cloth slot,so the filtrate is not clear,but more and more big solids will be hold by filter cloth or stay at the filter cloth surface,there will be less and less slot on the filter cloth anymore,then the filter cakes will be thicker and thicker by upgoing filtering pressure.
when we have filter cakes,then we can have the filtration immediately,but for some less solid conent suspension,for example,some wine beverage,in order to get clear filtrate we need to pre-treating first,that is the filter cloth is not the unique filtering meida,the diatomaceous earth it the best material for pretreating.