Leo company's product prototype.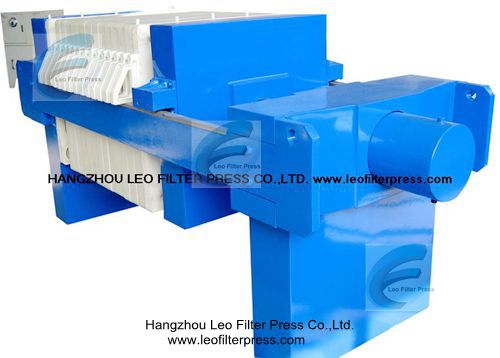 Small Filter Press for Small Capacity Filtering Design from Leo Filter Press,the Filter Press Manufacturer from China
Leo Filter Press Small Filter Press Machine,Manual Operation Small Filter Press Operation and Design Instructions
Sometimes Leo Filter Press sales got some special enquiries for small filter press ,some clients ask to buy a small size filter press normally these small filter press will be used as a lab testing filter press ,the small filter press will be asked to have small filter press plates for small scale material dewatering purpose, sometimes also asked a small filter press pump for feeding.
Normally the small filter press set will include several parts: filter press frame,filter press hydraulic system(can be automatic hydraulic system or manual hydraulic system), filter press plates and filter press cloth, if filter press client will need some special filte press parts design: filter press drip tray, filter cake collecting unit etc.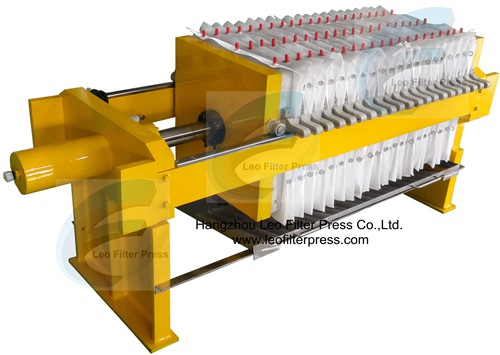 this compact designed filter press with integrating every necessary devices for small capacity filtering project or for testing operation
Leo Filter Press Small Filter Press Design and Operation Specification
Filter press plate size: small size filter press plate from 400mm to 630mm
Filter press chamber capacity: small capacity design,from 10L to 100L
Filter press hydraulic system: manual hydraulic system or automatic hydraulic system
Filter plate type: gasekted type or non gasketed type,chamber recessed filter plate or mixed type membrane filter plate( mixed from chamber recessed filter plate and membrane filter plate)
Filter cloth: different material and different filtering mesh filter press cloth
Feeding pump: membrane pump,screw pump or other small flow rate filter press pump