Leo company's product prototype.
Manual Filter Press,ManualHydraulic Filter Press from Leo Filter Press,Filter Press Manufacturer fromChina
Small Manual Filter Press,Leo FilterPress Small Capacity Manual Filter Press
1. Adopt patent filter press plate mould pressingproducing technology, high intensity, all the filter press plates are featuredin high temperature endurable, light weight, anti-corrosion, alkali and acidresistance, nontoxic and odorless.
2. High strength and special filter press plate moulddesign,after feeding and filtering,less filter cake moisture content and excellentfilter cake washing result.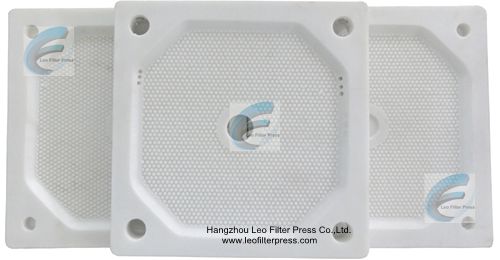 3. The filter press frame is made from solid steel bywelding, which can support high pressure during filtering,long service time.
4. Reasonable filter press structure design, economic investmentfor a whole filter press.
5. For Leo Filter Press small size manual hydraulic seriesfilter press, filter press operation will be done manually, all the filterpress plates and filter press cloths will be closed by manual hydraulic pumpdirectly.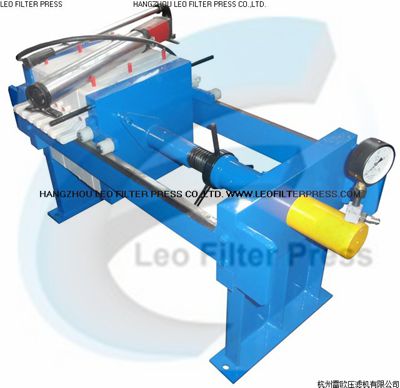 6. This small model filter press,can be used invarious industries,such as for small capacity water filter or maple syrupfiltering,it also be the testing machine for some projects.When there is a fewslurry need to be filtered, this small filter press model will be the firstchoice
7. Special design offered by Leo filter Press: filtercake cart, drip tray, filtrate gutter etc,please show your special requirementsto Leo Filter Press sales engineers directly.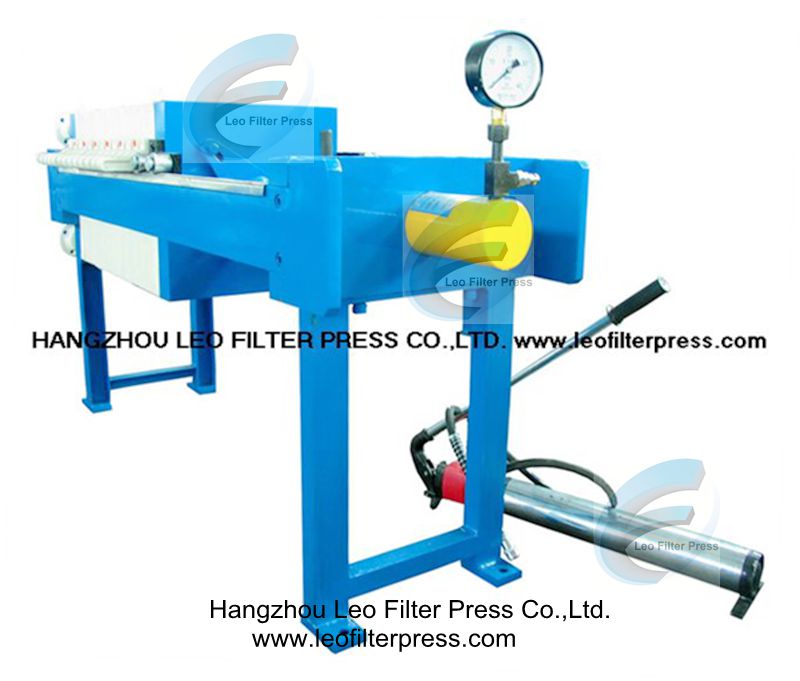 8. Leo Filter Press X400 manual hydraulic filter pressis the small filter press model with manual hydraulic operation system filterpress, the Filter Press Operation and Design Specification List as blow:
Filter Press Basic Design Specifications List for Leo FilterPress
Small Size X400 Manual Hydraulic Filter Press
Filter Press Model

Filtering Area (m2)

Filter Plate

(pcs)

Chamber Capacity

(L)

External Size
(mm)

Weight (kg)

X

A

M

J1.0/400-U

K

B

1.0

5

15

1390X630X850

358

X

A

M

J1.6/400-U

K

B

1.6

7

24

1490X630X850

375

X

A

M

J2.0/400-U

K

B

2.0

11

30

1690X630X850

400

X

A

M

J2.5/400-U

K

B

2.5

13

37.5

1790X630X850

410

X

A

M

J3.0/400-U

K

B

3.0

15

45

1890X630X850

420

X

A

M

J4.0/400-U

K

B

4.0

21

60

2190X630X850

465

X

A

M

J5.0/400-U

K

B

5.0

27

75

2490X630X850

500
All the above X400 filterpress design and operation specification are fore your reference and only for model X400 manual hydraulic closing X400models,with 25mm cake thickness
Any Filter PressDesign modification for X400 manual hydraulic filter press swill beinformed separately. Leo Filter Press X400 users,please check your "Leo FilterPress X400 Operation and Maintenance Manual"only.